Medicine On Time's unique adherence software, motNext is designed to help you organize patient profiles, cycle dates and all key elements needed to efficiently operate your adherence program.  This robust platform allows you to power multiple package types for any patient with simple or complex medication regimens.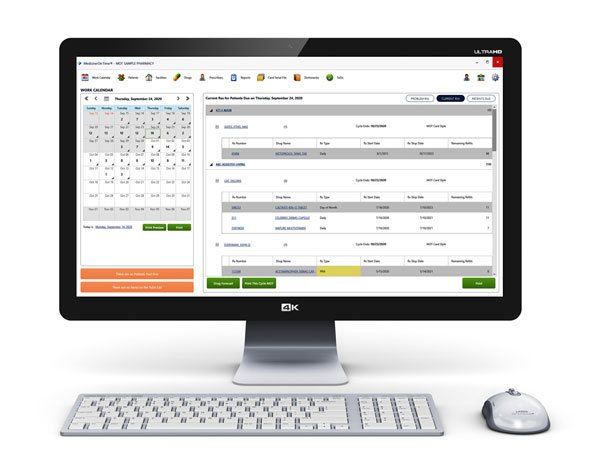 Software Features Include:
Workflow Calendar designed to organize patient cycles and support proactive task management
Drives and supports multiple package types with a variety of configurations to meet any patient need
Produces over 40 charts, forms and reports to service care facilities and enhance patient care
Supports real-time Pharmacy Operating System Integrations – including HL7
Built-in technology takes the guesswork out of complex medication regimens and varying dose-capacity needs
Software makes it possible to customize packages with patient images, drug images, pharmacy logo, coupons and even patient messages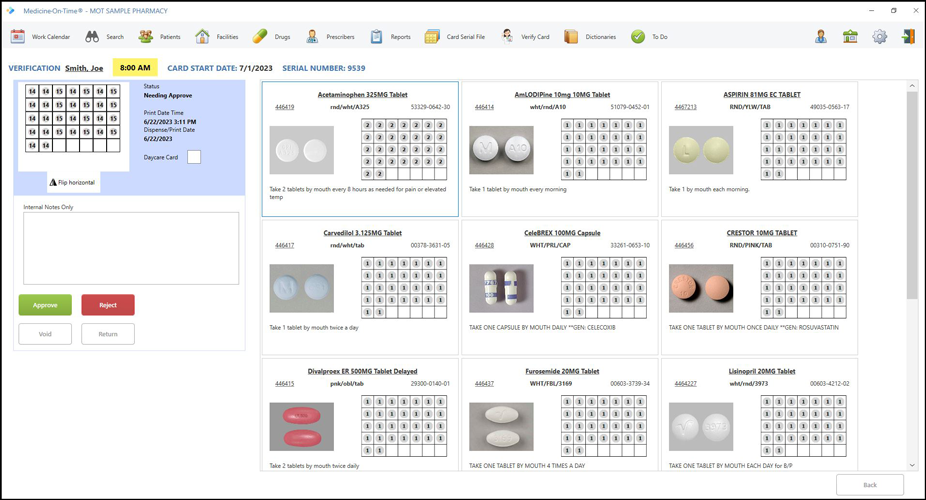 Pharmacist Verification Tool
motNext now features a valuable tool to assist pharmacists in the critical PV2 verification process.  This new tool displays imaging with correct placement for each medication along with drug images, visual descriptions, and the Sig for each drug.  The Pharmacist Verification tool makes it quicker and easier for the pharmacist to verify that each medication package has been filled accurately before it leaves the pharmacy.
Appointment-Based Model Calendar
Medicine-On-Time is excited to introduce a new software feature that streamlines and enhances the appointment-based model in your pharmacy. This tool allows your pharmacy to incorporate patient engagement and coordination of care seamlessly into your daily workflow. From scheduling appointments, to documenting patient consultations, to sharing vital information with all members of the patient's care team, motNext has you covered.